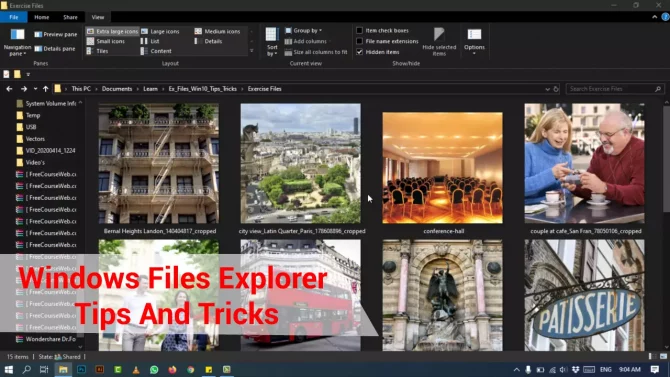 Windows Files Explorer Tips And Tricks - Viewing and selecting files
In this video tutorial, we'll be going to learn how we manage our windows 10 files and folders. This tutorial covers the basics of Windows Files Explorer, how we organize our Windows 10 File Management system using File Explorer. In this tutorial, we will also explore the Viewing and selecting files settings.
File Explorer is a built-in app of Windows 10 that allows you to create, rename, edit, cut, copy, organize, delete, Show Hidden Files, Show File Extensions, Expand to Current Folder, Show Preview, Hide Preview, Show Detail, Hide Details, Click to Select and modify files and folders. By mastering the concepts of file explorer which I taught in this video, you will no longer have trouble
This tutorial is intended for beginners who want to learn more about the Windows operating system and how to properly manage the filing system.
if you want to know the Windows Files Explorer Tips And Tricks  - Viewing and selecting files so, keep watching this video till the end & do subscribe.
Subscribe: http://bit.ly/2MExGE8
Website: https://techtalk.com.pk/
Facebook: https://www.facebook.com/TechTalkTT/
Instagram: https://www.instagram.com/techtalktt/
Twitter: https://twitter.com/TechTalkTT
Pinterest: https://www.pinterest.com/TechTalkTT/
Watch More: How to enable god mode in windows 10
#TechTalk
---
---
Written by admin
---
---