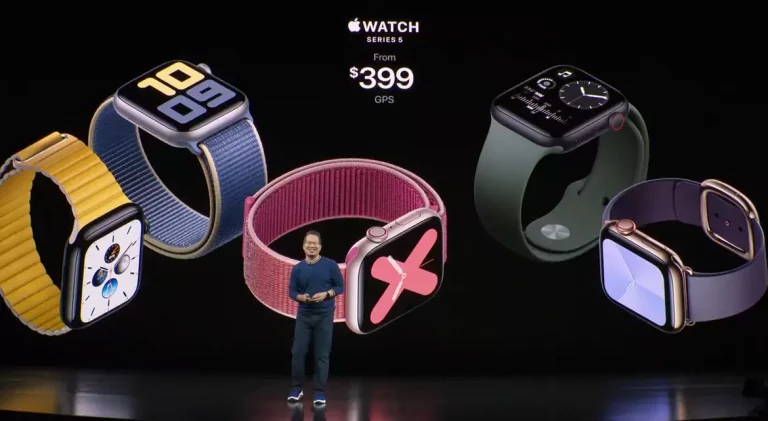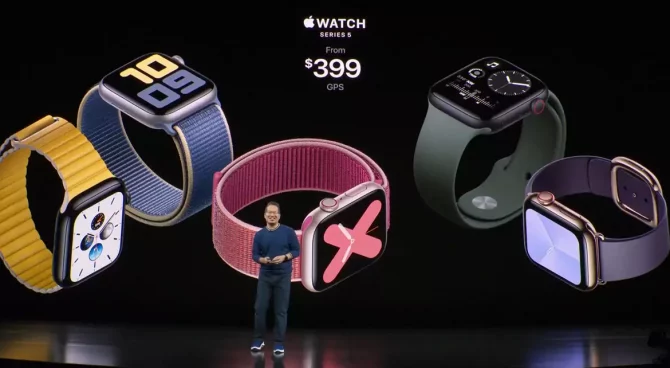 Apple Watch Series 5 now with an always-on display
Apple has released the latest version of the world's most popular watch. The new Series 5 has everything that makes Apple Watch the most popular watch today. It also has many new features with ECG sensors.
The all-time on-display display
is the newest in Series 5 and the industry's first LTPO Retina display. In series 5, its display can be turned on at all times due to the light sensor, ICs and fancy power management features.
When the user is not using the watch, its screen will be dimmed, it will have fewer details and its refresh rate will also decrease. Due to refresher rate management, the Series 5 battery will not be wasted even though it is always on.
Even when Apple Watch Series 5 is not used, details of the exercise, etc., continue to appear on its dim screen.
 All-day battery timing
Apple Watch Series 5 will give 18 hours with on-display. The new Fancy AoD can be enhanced if not used.
The pole for navigation
GPS is not the most important feature of the Apple Watch. It also has a special pole. It also includes new positioning chip routing information, longitude, latitude and altitude information.
Apple has made it to work with the new WatchMaps app. This will allow users to know which route they are going to. This pole can also be used with third-party apps.
The International Emergency Calling
ECG can make emergency calls to any cellular Apple Watch worldwide, with ECG readings and consumer outages detected.
New Material and the New Style
Without the new style, no Apple Watch launches. The Apple Watch Series 5 introduces a somewhat new design while retaining the previous design.
Apple Watch studios is a major breakthrough in the Apple Watch Series 5. It is available both online and in-store. This allows users to choose the custom case for their band.
That means consumers will no longer be limited to Apple's already introduced case.
Apple Watch Series 5 has also introduced a new material option titanium. It is lighter than stainless steel but is much stronger. It is offered in Silver and Space Black colours. The stainless steel Apple Watch is available in Gold, Silver and Space Black. Aluminium is offered in Silver, Gold and Space Gray colours.
Its aluminium version is made of 100% recycled aluminium.
Pricing and The Availability 
Watch Series 5 (GPS) starts at $ 399. Prices for the Watch Series 5 (GPS + Cellular) start at $ 499. Both these models can still be pre-ordered on Apple's website. GPS versions Will be available in stores in the US and 38 countries only.
GPS and cellular versions will be offered in the US and 20 countries only.
Apple Watch Series 4 sales will close but Apple Watch Series 3 sales will continue. Watch OS6 will be released on September 19 for both versions. Apple Watch Series 1 and Apple Watch Series 2 will be updated this fall.
Read More: Apple's new iPad gets a bigger screen & Smart Connector, keeps same price
---
239 Views
0
Ratings
Rate it
---
Written by admin
---
---