32 GB will be required for an upcoming update of Windows 10
32 GB will be required for an upcoming update version 1903 of Windows 10. Microsoft has updated the necessary hardworking requirements page for Windows 10. This page has been reported that in Windows 10 version 1903, 32-GB or 64-bit versions of Windows will require at least 32 GB storage.
Microsoft did not change the processor and memory requirements.
Windows 10 desktop edition will need at least 1 GB processor or OS.
For the 32-bit version of Windows 10, 1GB  Ram will be required and 2GB Ram will be required for 64 GB version.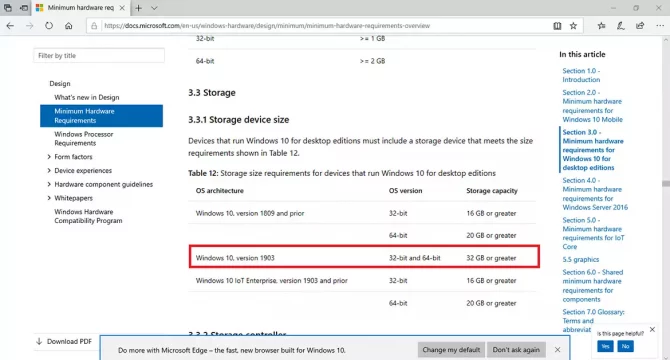 Storage device size has been updated for Windows 10 version 1903. The previous version 1809 needed 20 GB storage for the 64-bit version and 16 GB storage for 32-bit versions of Windows. Now Microsoft is upgrading the storage limit for both 32 bit and 64 bit to 32 GB.
Microsoft wants desktop device makers to create more than 32 GB of storage devices.
Read More: China Introducing a 30,000-hour battery backup mobile
---
---
Written by admin
---
---