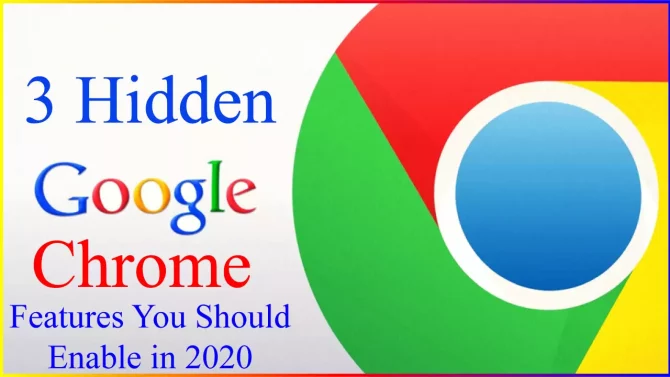 3 Hidden Chrome Features You Should Enable in 2020
In the video tutorial, I'll show you the 3 Hidden Chrome Features You Should Enable in 2020. If you want to know so keep watching this video till the end & do subscribe.
The Google Chrome browser has a ton of features many of which are hidden inside Chrome's flag menu in this video I will go over the experimental features located in the flags menu that you can tweak for a better browsing experience.
To access any of the chrome flags go to your address bar and type:
Chrome://flags and hit enter on your keyboard.
If you use Chrome the "voice chat" on a number of websites including Facebook one issue many users experience is the echo picked up by their microphone
.
Enabling web RTC echo canceller: will help to reduce the echo making it sound better don't expect any miracles enabling this feature will not eliminate all the external sounds picked up by your microphone.
Enabling smooth scrolling: when you have several tabs opened that the scrolling experience becomes sluggish enabling smooth scrolling may give you a better scrolling experience with less lag.
Google has created a new connection protocol called quick which is a combination of the TCP and UDP protocols with the goal of creating a faster and more secure Internet at the same time you will need to:
Enable experimental quic protocol: to try it out I've been testing this feature for the past few weeks and the browsing speeds do appear to be faster.
whenever you make any changes to any of the flags Chrome will need to be rebooted for the changes to take effect at the bottom of the screen just click on relaunch now all the pages you had open will automatically reload when Chrome restarts.
These are just some of the chrome flags that can give you a better browsing experience if you use any others let us know about them in the comments.
Subscribe: http://bit.ly/2MExGE8
Website: https://techtalk.com.pk/
Facebook: https://www.facebook.com/TechTalkTT/
Instagram: https://www.instagram.com/techtalktt/
Twitter: https://twitter.com/TechTalkTT
Pinterest: https://www.pinterest.com/TechTalkTT/
Watch More: How to Disable Chrome Volume Media Control Pop up on Windows 10
#TechTalk  #chromehiddenfeatures #chromeflags
---
---
Written by admin
---
---